Hello,
Here's a recap of the best cider news worth sharing: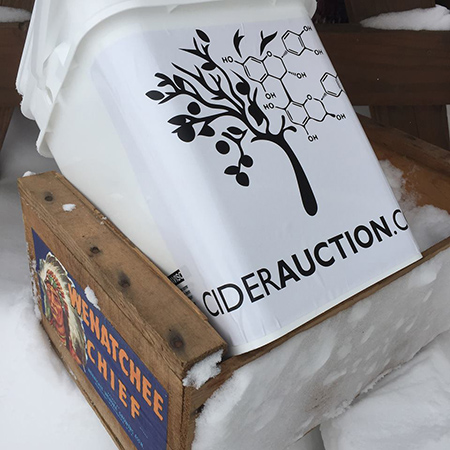 1) CiderAuction—an online platform for cidermakers to buy small lots of distinctive frozen juice—launched its first round of auctions this week. See Meet Our Apple Growers for a list of participating orchards and the apple varieties used in the juice lots.
2) The Heritage of Orchards & Cider Making in Wales is a growing video archive that collects oral histories of Welsh cider and perry traditions.
3) A cider with cherry, a cider with hops, a cider with cinnamon—which isn't taxed like the others? Find the answer in Cider Industry Federal Compliance Training 2017 and Recent Changes: Bonds, Annual Returns, Hard Cider Tax Rate from the TTB. (A nice overview is TTB to Amend Regulations in Relation to Hard Cider from On Reserve: A Wine Law Blog.)
4) In Wild Culture: Elemental Cider, Anna Brones writes for Paste on how cider's growth is linked to a renewed interest in all fermented foods and drinks.
5) A trio of profiles: Mark McTavish of 101 Cider House by the LA Times, Al Snape of Far From The Tree by Cidercraft, and Taylor Kirby of DoubleCider by Cider Culture.
6) The latest Cider Sessions features Diane Flynt of Foggy Ridge Cider. (Also from CIDRBOX is The True Harrison, a brief history of the once-thought-lost variety.) And Cider Chat interviews Marlene Sofia Sousa Araújo of Araújo Monte in Portugal.
7) Sonoma County's hard cider market is ripe for growth according to The Press Democrat. And in other warm climes, Cidercraft encourages you to Taste the South with These 4 New Cideries.
8) The bars, bottles and basics of Toronto's latest beverage boom is an expert guide to the city's cider scene by drinks writers Crystal and Tara Luxmore.
9) Vermont Cider Week kicks off today with events across the Green Mountain State.
10) Along Came a Cider posts CiderCon 2017 Part 2: Panels, Workshops, and Tastings. Cider Says reviews Moonlight Meadery How Do You Like Them Apples, Virtue The Mitten, and Oregon Mead & Cider Co. Free Press Hopped. Cidercraft reviews Eaglemount Raspberry Hopped. I think about cider reviews Manoir de Grandouet Cidre Fermier Brut. drycider reviews Oliver's Ellis Bitter, Farnum Hill Extra Dry, Angry Orchard Walden Hollow, and Samuel Smith's Organic Perry. CiderScene recaps Cider Summit Chicago and reviews Schafly Proper Cider Scrumpy. Cider Soms sample ciders from the Northwest Pavilion at Cider Summit Chicago. The Milled Apple reviews Oliver's At the Hop and Doc's Draft Pear. Simple Cider Reviews tries J.K.'s Northern Neighbour, Liberty English Style, Virtue Percheron, Slyboro Hidden Star, Sonoma Dry Fuji, Snowdrift Cliffbreaks Blend, Whitewood Winesap, and Graft Cider Hop Tropic. Cider Society reviews Thirsty Owl Fujac, Graft Cider Ashes of Tomorrow, and Bad Seed Ginga Roots. The Cider Blog reviews Hogan's Killer Sharp Sour Cider. The Cider Drinker reviews Westons Rosie's Pig Flat Tyre and Ross-on-Wye Dry Still. And Real Cider Reviews tries Bonamy's Apple Cider.
Have a great weekend!
Eric