Download: 003_Bill_Bradshaw.mp3 [43.3MB, 47:19]
ERIC WEST (Intro): Bill Bradshaw—photographer, author, cider enthusiast, and all-around super nice guy—joins me for Episode 3. Based in Somerset, England, Bill has been documenting the world of cider through his excellent photography since 2004. He and I chat about his first book as a solo author—Cider Enthusiasts' Manual—and how it came about. We also chat about small-scale cidermaking in the South West of England, the push and pull between innovation and tradition in the US and the UK, his previous book—World's Best Ciders—and the talent of his co-author Pete Brown, cider festivals, cider competitions, and much much more.
Here's my conversation with Bill Bradshaw.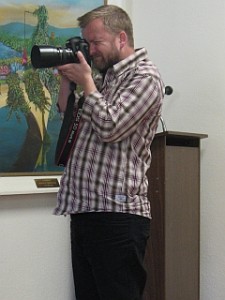 ERIC WEST: Bill, your newest book is Cider Enthusiasts' Manual
and it's published by Haynes. Can you tell me a little bit about how this project came about? And how a publisher like Haynes was interested in bringing it out?
BILL BRADSHAW: Well, I had a phone call from a nice lady called Louise at Haynes. And she said we're looking for someone to write a cider manual. Do you think you would do it? And I said, look, I'm not really an author. I've done some writing, I'm not a great writer. But I certainly I feel I know enough to write a basic guide—a beginner's guide. And she said, well, that's what we want is a nice step-by-step guide of how to make cider.
And I had some reservations because there are a lot of good books already that are very simple and very self-explanatory about how to make cider. It's a pretty simple process when you strip it right back. And I didn't want to do just another one of them and throw it out there and compete on a really average level. I was thinking, can we do something a little bit different? And rather than just do another technical manual, do a manual for beginners and people that are interested and don't know much.
But it covers much more than just that kind of basic process or science. It's a lot more—it's a lot broader, a lot more holistic. It talks a bit more about the history or some of the social or cultural stuff. How it goes with food. Growing apples. It introduces all the different threads you can have when you're interested in the subject. And basically it is the kind of book I was looking for when I first started looking into cider as a subject and getting interested in it, and it wasn't out there. You would've had to buy a book on how to make it, or a book on the history of it, you know.